Ensure patient value
with a user-friendly patient program within a reasonable budget
All patient functionality is always included.
We had an idea to make a new type of patient engagement platform, one that empowers our customers to be as patient-centric as possible without taking a hard hit to their project budgets.
All patient functionality is always included. We work to continuously develop our solutions based on patient and customer feedback to always deliver more value. Creating your own program app establishes a link to your patients to provide value and collect data. Build, measure, and learn directly in our web interface.
In our platform, you are the innovator. Iterate on our platform as often as you like to accelerate learning and become the top expert on your unique patient population.
Standardized, flat-fee pricing. That means that you pay for what you use and there are no hidden costs. All processes and documentation are standardized and transparent for faster internal processes.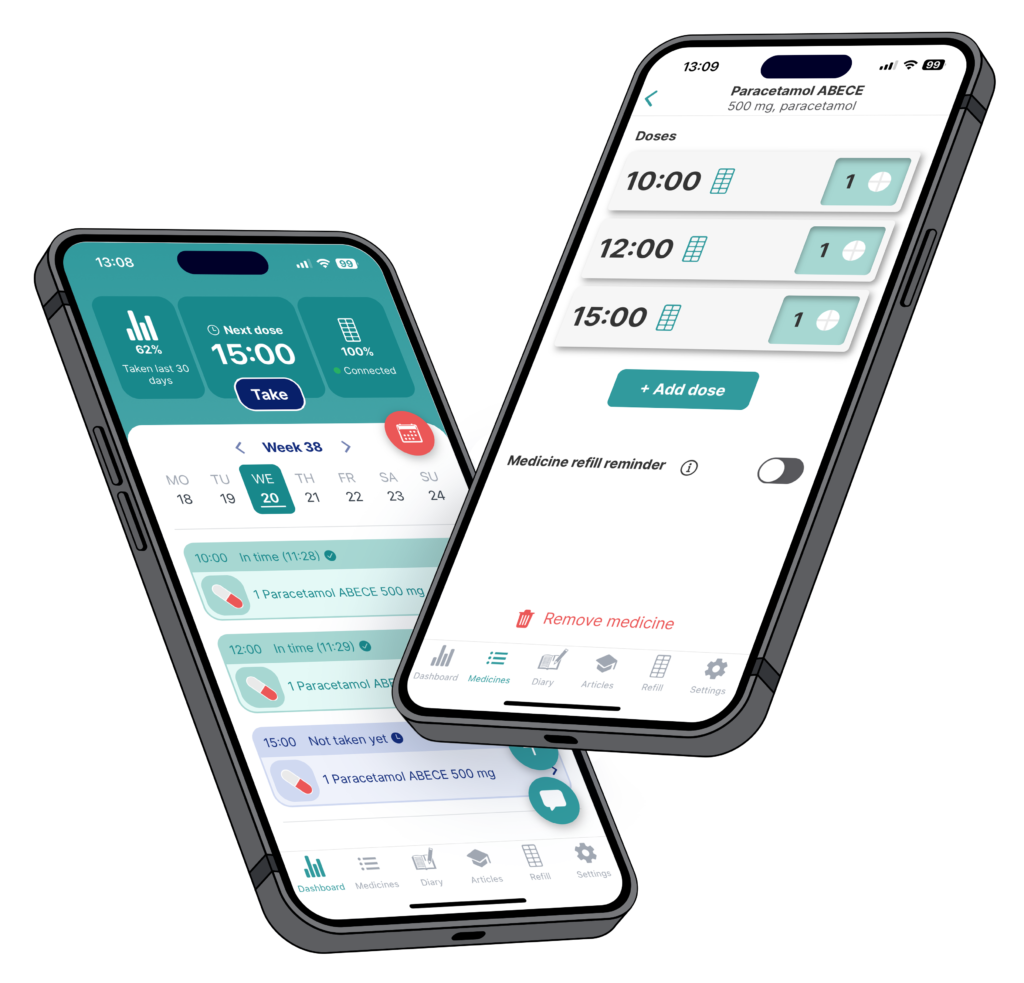 Transparent Pricing
Core
Starts at €2500/month/country
Includes:
Available on android and iOS with customized logo on the app's main screen
A complete user engagement app program to share information and collect data – all patient facing functionality always included
More user value over time as features are added and improved from user feedback
Digital education material for clinics and patients
Dashboard with real time data on number of app users and average satisfaction score
Standard agreements for legal and regulatory clearance
Advanced
Starts at €5000/month/country
Everything in core plus:
Expanded branding in the application with customized color theme
Full access to the data generated by the program
Expanded data analytics in the dashboard with custom KPIs tracked automatically in real time
Scripts for pharmacovigilance monitoring
Data export
And more… Customize and enhance your plan with additional features, such as our smart pillbox. See all features below.
What's included?
| Design and Implementation | Core | Advanced |
| --- | --- | --- |
| Mobile application program available on android and iOS | x | x |
| Customize and update your program as often as you like | x | x |
| Access to all user-facing modules | x | x |
| Access to upcoming modules | x | x |
| Techincal support during work hours | x | x |
| Branding | Core | Advanced |
| --- | --- | --- |
| Customized logo on the app's main screen | x | x |
| Customized color scheme in the app to reflect your brand | | x |
| Implementation | Core | Advanced |
| --- | --- | --- |
| Standardized legal agreements | x | x |
| Standardized data policy | x | x |
| Standardized Terms of Service | x | x |
| Access to our digital education material | x | x |
| Monitoring and Data Analysis | Core | Advanced |
| --- | --- | --- |
| Real time data on number of patients and average satisfaction score | x | x |
| Average medication adherence data in the last month | | x |
| Subgroup analysis of the patient population | | x |
| Scripts for pharmacovigilance monitoring | | x |
| KPIs setup and follow-up | | x |
| Data export | | x |